Tamsin's Superleague top-four verdict

Netball Expert & Columnist
"It's going to be a really interesting few weeks and as a spectator, one of the most incredible Superleagues that we've ever seen."
Last Updated: 19/04/19 2:00pm
Tamsin Greenway previews an action-packed Easter weekend of Vitality Superleague action which could prove pivotal in determining who books a semi-final spot.
The top five are separated by nine points but with two rounds played out over Saturday and Sunday, including four matches live on Sky Sports, in Glasgow and Coventry respectively, the picture is expected to become somewhat clearer.
Manchester Thunder lead the way from back-to-back champions Wasps on goal difference followed by Team Bath and Loughborough Lightning with Saracens Mavericks three points outside the top four.
With goal difference being so tight between Thunder & Wasps, it's really interesting to see which way around they finish in the top two because I think both will go on and win their remaining four games.
Tamsin Greenway
Manchester Thunder
Strengths – Thunder's feed into the circle and the connection between Liana Leota and Kathryn Turner is usually so spot on. The loss to Stars was a real shock for them and watching the highlights from that game, they were just really disconnected.
It was one of those games that you rarely see from Thunder and I don't think that we'll see another performance like it again.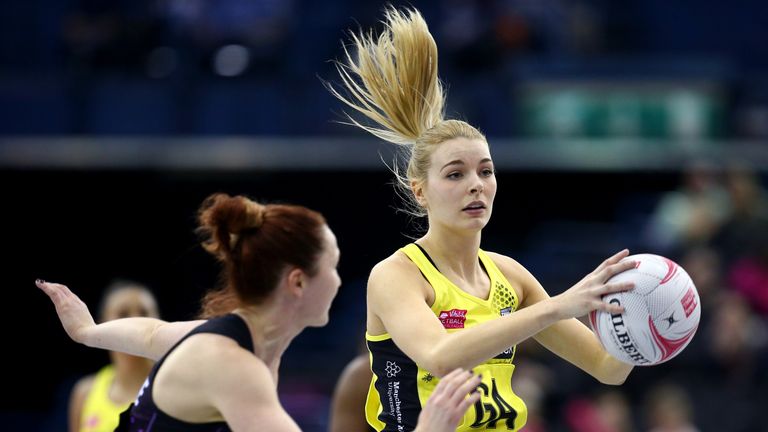 Crunch clash – The danger game is Loughborough and that's because of the match-up for them in the GK position. I don't think that it's Kerry Almond's strength against someone like Mary Cholhok. However, they have got so much quality through the court that they will win ball early. Down the other end, we saw Tuaine Keenan struggle against Sigi Burger and Joyce Mvula might cause her similar issues
Verdict: You need all of your players on top of their game going into finals time and defeat [to Stars] was a wake-up call. I honestly don't think that Thunder will drop any points [on the run-in].
Wasps
Strengths – The defensive end is fantastic with Hannah Knights and Fran Williams has really come into her own in the last few weeks.
There's so much confidence and experience when it comes to this point. In the games that they lost, bar the first Thunder game, they were up and quite comfortably up at some points.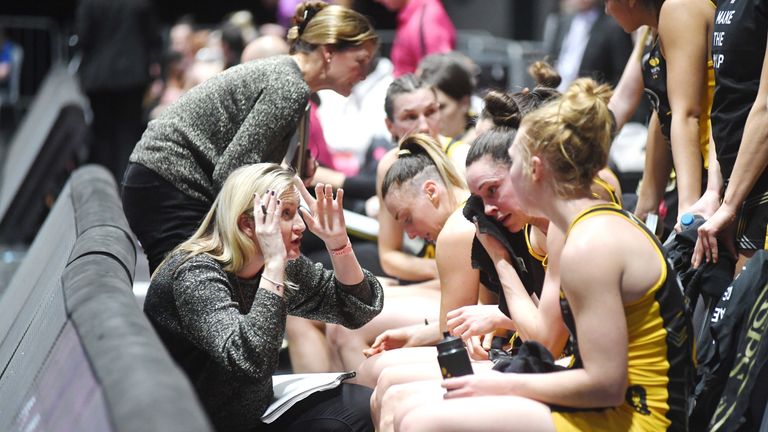 Crunch Clash – There's potential for a slip-up against Storm but they will be aware of that and also Stars in the final game of the season.
They know they can take any team apart but they have to put it out there for 60 minutes and the last couple of weeks they have been learning to do that again.
Verdict: On paper they have the easiest run in, because the other four teams have still got to play each other. So it's about their finishing position and who they will end up playing in the semi-final.
Vitality Netball Superleague – R15 Fixtures [Big Easter Weekend – Saturday]
| | | | | |
| --- | --- | --- | --- | --- |
| 2pm | Strathclyde Sirens | vs | Loughborough Lightning | Live on Sky Sports Mix & Arena |
| 4pm | London Pulse | vs | Manchester Thunder | Live on Sky Sports Mix & Arena |
| 5pm | Wasps Netball | vs | Surrey Storm | |
| 6pm | Severn Stars | vs | Team Bath | |
| 7pm | Saracens Mavericks | vs | Celtic Dragons | |
Team Bath
Strengths – They always win you ball, with Serena Guthrie, Eboni Usoro-Brown, Summer Artman they are hunters. But because they have not got a target shooter (Kim Commane is more of a mover) it relies on the mid-court opening up the space and doing a lot of work and that's when they get into trouble.
That's the area that they will need to focus on in the Thunder and Mavs games.
Crunch Clash – The reality is that they have the hardest run-in but that's not a bad thing for this stage of the season. If you want to win and want to make a Grand Final, you want to be playing tough games going into that.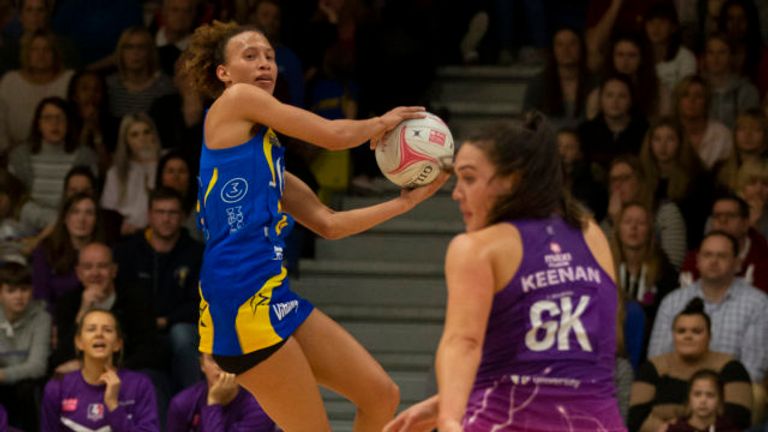 Verdict: Bath are an interesting one and they're always interesting because on paper they had one of the strongest squads again. they are unpredictable at times – they got hammered by Mavericks but then they can turn it around and put a massive score against Loughborough.
They know they are going to get ball but what are they going to do with it? To be real title contenders, they have to fix that over the next couple of weeks.
Loughborough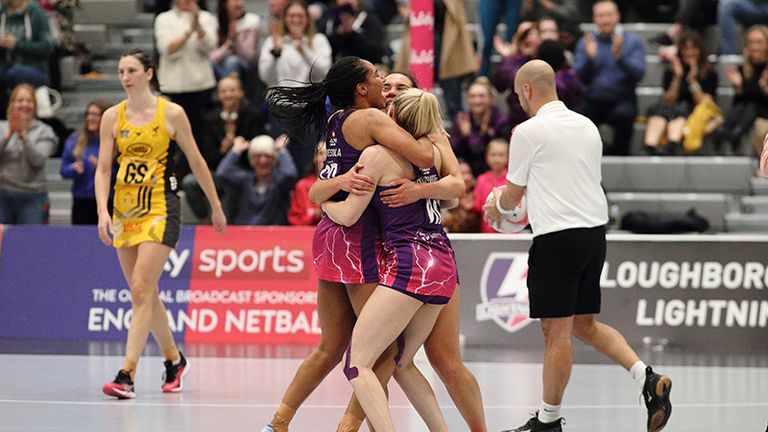 Strengths – There are so many great players, Nat Panagarry, Ella Clark, Hannah Joseph and Vicki Oyesola, who know how to grind things out.
They have been in this position for the last couple of years because they have made finals and they are desperate to make finals which makes them a danger.
You cannot write them as in those really tight games against Wasps (where they came back) and against Stars (where Stars nearly caught them up) the were able to win.
Crunch clash – Thunder will be a real test for Lightning as Thunder will want to set a benchmark. They should come out of their other three games unscathed and they should win them.
What would be sad for them, is if their goal-differences lets them down at the end of the year because it might go right to the wire with Bath, Mavs and Loughborough on goal difference.
Verdict: Loughborough have gone from seven wins on the bounce to two losses and look like a completely different side. When I have coached, it always comes down to understanding why you are winning and why you are losing.
They are a real confidence team and with the players that they have got, they have nothing to lose, could quite easily scrape into the top four and then go and win a semi-final.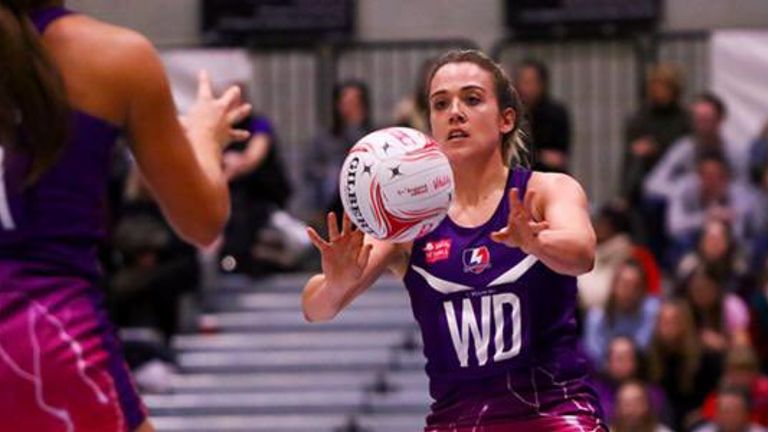 But, also they could quite easily crash out in the next couple of weeks which must be really frustrating for Sara Bayman.
She has a great team there, they are just not showing the consistency, but that's understandable because they had so many new players come in this season.
Saracens Mavericks
Strengths – Mavs have put themselves in a position where they HAVE to go out and win. That can do two things for a team – it can make them play absolutely amazingly or it can do completely the opposite.
They will get a lot of ball but it's what they do with it. They were costly in the Wasps game on Monday night and without Gabby Marshall, they are struggling with the lack of changes from the bench.
Crunch clash – The Bath fixture this weekend. If you want to talk about pressure, I think that it all rides on this game.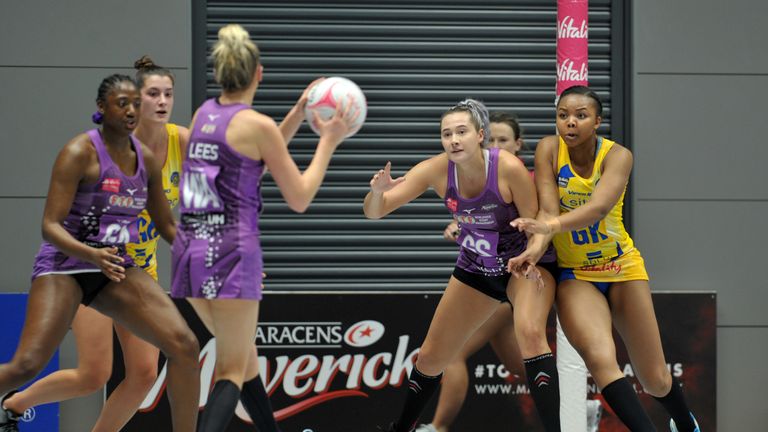 If Mavs want to make top four they want their destiny in their hands and this game will decide it.
It's a test for both and it will come down to who can stay calm, done their homework and who can deliver.
Verdict: It's a strange one because literally three weeks ago they were sitting pretty in the top three, everybody thought that it was done and dusted but how quickly it can change.
It's in their hands whether they can pick themselves up and beat Bath and then take their opportunities.
Prediction time…
With the remaining games and the way that people are playing, I think that it'll be Thunder, Wasps, Bath and Loughborough in the top four. I had backed Mavs at the start of the season but I'm so surprised with how they have dropped off in this second half of the season, whereas Bath and Loughborough seem to have so much grit and determination at the moment.
Normally you would start looking at who you would be facing in the semi-finals. But it's going to go right down to the wire so You do not even know how Wasps and Thunder are going to place because with their run-ins you can see it going to goal-difference there too.
The Vitality Superleague continues on Sky Sports with four live games across a busy Easter weekend – from 1.45pm on Saturday, April 21 we have Sirens vs Lightning and Pulse vs Thunder and then from 3.45pm on Sunday, April 22 we have Storm vs Stars and Bath vs Mavericks.