Stock markets stabilise after China trade warning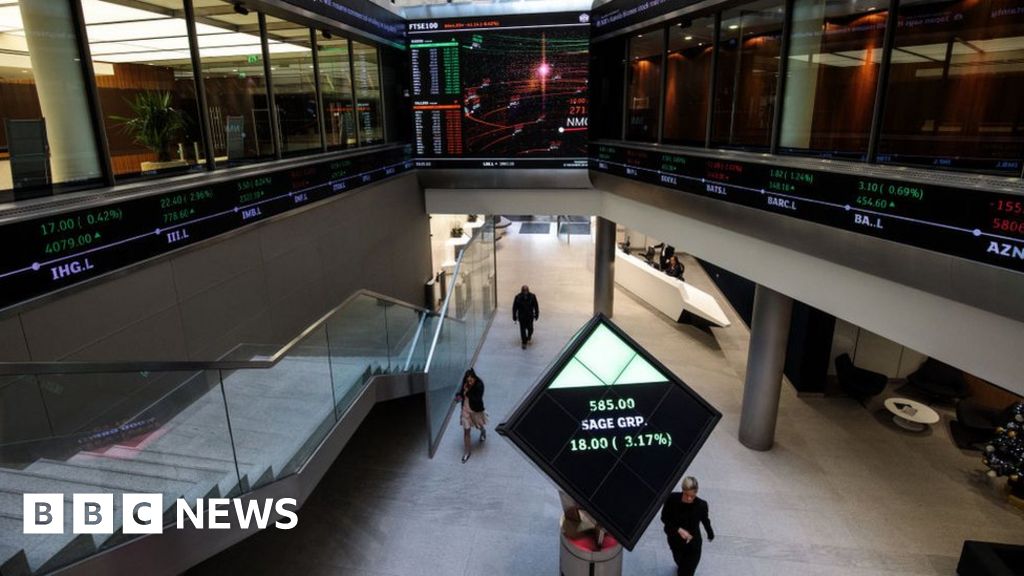 Stock markets around the world have largely stabilised after falling sharply on Wednesday and earlier on Thursday over fears over a slowing global economy.
The three main US stock markets closed 3% lower overnight, but were back in positive territory on Thursday.
This was despite a warning from China that it would take fresh countermeasures against US tariffs.
However, the picture was more mixed in Europe, with London's FTSE 100 down 1%.
There was panic on European, US and Asian markets on Wednesday, after weak data from Germany and grim signs in bond markets raised fears of a global slowdown.
The yield on two-year and 10-year Treasury bonds inverted for the first time since June 2007 in the UK and the US as investors dived into longer-term investments.
Historically, such bond movements have been a reliable indicator of possible recessions. For example, they preceded the last big global downturn more than 10 years ago.
Markets saw a further dip early on Thursday after China's Ministry of Finance said a US plan to impose fresh tariffs violated a consensus between US President Donald Trump and his Chinese counterpart, Xi Jinping.
The ministry said China would "have to take necessary countermeasures" against US tariffs.
Trade tensions between the US and China have weighed on stock markets for at least the past year, with investors nervous that the dispute is dragging on both economies.
By mid-afternoon in Europe on Thursday, Germany's Dax index had lost 0.5% and the French Cac 40 was down 0.2%, while the pan-European Stoxx 50 was flat.
In the US, the Dow Jones was up 0.1%, the Nasdaq had gained 0.2% and the broader-based S&P 500 was up 0.3%.
Speaking to the BBC's Today programme, Kathleen Brooks from Minerva Analysis said the sell-off may have been compounded by the fact many investors are on holiday.
"People are away, so moves can be exaggerated in August," she said.