Raikkonen top in second Singapore GP practice as Vettel hits wall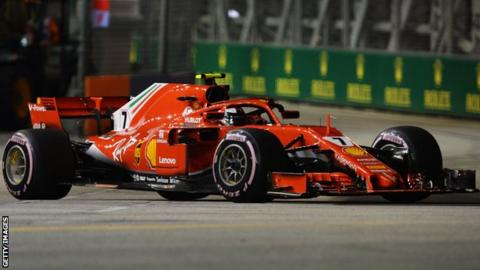 Ferrari's Kimi Raikkonen led Lewis Hamilton's Mercedes by just 0.011 seconds in second practice at the Singapore Grand Prix.
Hamilton's title rival Sebastian Vettel was ninth after hitting the wall and damaging his car's right rear corner.
Vettel was one corner from the end of a lap that looked set to put him up with Raikkonen and Hamilton.
The German was able to get the car back to the pits but the extent of the damage ended his session.
Vettel slid sideways into the wall on the exit of Turn 21, at the end of what would have been his fastest lap of the season, catching it with his right rear wheel.
It was a glancing blow and the wheel stayed attached to the car but he immediately felt damage and pulled straight into the pit entry.
As he parked in the Ferrari pit, hydraulic fluid was pouring from the back of the car.
Vettel is 30 points behind Hamilton with seven races to go.
"The bad was the touch to the wall, which made the session come to an end. We lost some time, which is not ideal but nevertheless the feel I had for the car was all right and we should be fine for tomorrow.
"It was very close and I expect it to be very close tomorrow."
Ferrari came into the weekend as favourites on a track where Mercedes have traditionally struggled.
Hamilton said on Thursday that he "hoped" Mercedes would be competitive but that "Ferrari should have the upper hand".
Ferrari have ended the day quickest, but the Mercedes is much closer to it on pace than had been expected – both in qualifying trim and later in the session on race fuel loads.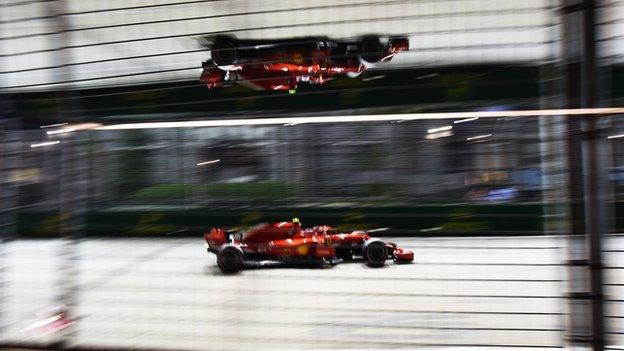 Raikkonen and Hamilton were very evenly matched on their race simulation runs. Hamilton ended his run on the hyper-soft tyres on which teams are likely to start the race with a slightly quicker average lap time than the Finn.
But it was difficult to be absolutely sure of the relative pace of the cars because Hamilton punctuated his run with a number of slow laps that might have helped the longevity of his tyres.
Max Verstappen was third fastest for Red Bull ahead of team-mate Daniel Ricciardo. The Dutchman was 0.522secs off the pace but Red Bull appeared to be much closer on race pace, Ricciardo setting an average 0.064secs quicker than Hamilton but on a slightly shorter run.
The second Mercedes of Valtteri Bottas was off the pace – 0.669secs off the Briton's pace.
Best of the rest was Renault's Carlos Sainz, ahead of Haas' Romain Grosjean and the McLaren of Fernando Alonso, an encouraging start for the Spanish double world champion on a track where he has always excelled.
Who will win in Singapore?
Choose your top three drivers from the list below