#MyFreedomDay 2019: Students teach the world about modern slavery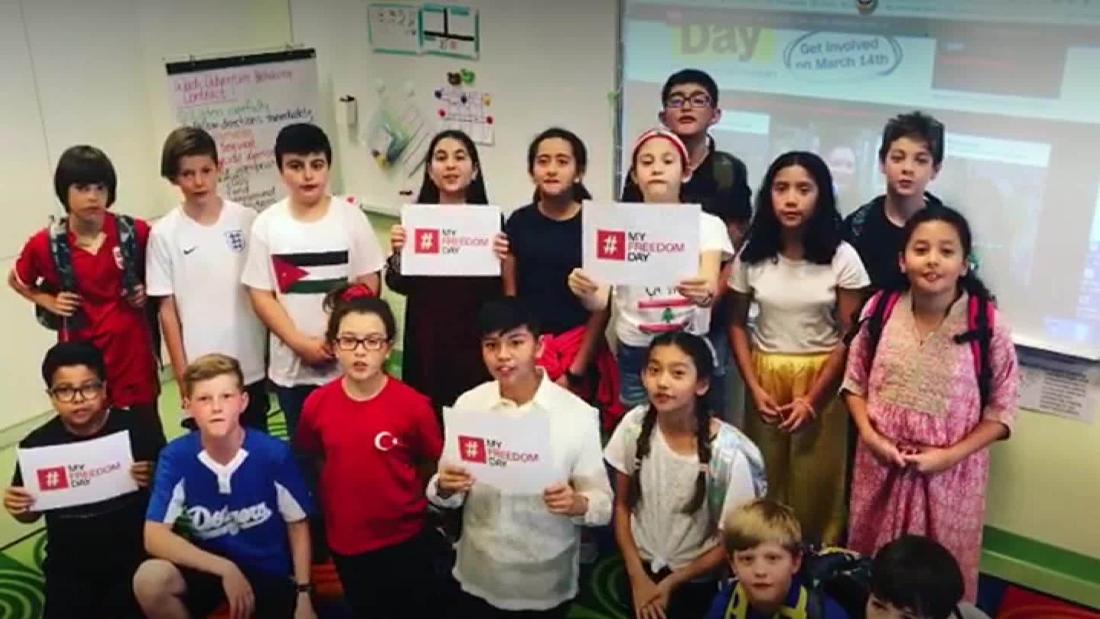 Updated less than 1 min ago11:02 a.m. ET, March 14, 2019
less than 1 min ago
Tear down this wall!
By CNN's Tom Page
CNN's Oren Liebermann comes live from the Poznan School of Music in Poland, where students have channelled their inner Pharrell Williams.
Children also constructed a wall symbolising the obstacles to freedom around that world, before knocking it down. It's just another way of communicating the task of abolishing modern day slavery.
As one student says: "Talk is the most common and most effective thing to make others feel free, feel happy."
19 min ago
"Heavy stuff"
By CNN's Tom Page
Forty million: that's the estimated number of enslaved people around the world as we write this live blog today. At Atlanta International School, CNN's Cyril Vanier observes a moment of silence with the students.
35 min ago
CNN's around-the-clock coverage
By CNN's Tom Page
We're following the sun as CNN correspondents report on My Freedom Day events around the world. We're coming to you live from Hong Kong, India, Poland, Ghana, the UK and the US throughout the day.
No CNN crew near you but want to take part? Tell us what makes you feel free and post it on Twitter using the hashtag #MyFreedomDay!
1 hr 6 min ago
Singing songs of freedom
By CNN's Tom Page
The arts are playing a huge part in spreading awareness of modern day slavery at #MyFreedomDay events. CNN's Eleni Giokos talks to Afro Roots musician Rocky Dawuni in Accra, Ghana, about the power of music to advocate for personal freedoms.
Take a listen to Dawuni, with pupils from the Association International School for backing singers.
1 hr 18 min ago
From the CNN Freedom Project: Child slaves risk their lives on Ghana's Lake Volta
1 hr 32 min ago
Breaking down social barriers
By CNN's Tom Page
More contributions from India, this time from the Manjusri Public School in Temi, Sikkim State, who turned out en masse to celebrate #MyFreedomDay.
Freedom is "being able to dream freely," says one student. "Everyone deserves it, but not everyone gets it," says another. "I feel I'm lucky."
2 hr 24 min ago
Freedom to live "without fear of being objectified"
By CNN's Tom Page
2 hr 48 min ago
A message for world leaders
By CNN's Tom Page
One mural, 196 portraits. Children in Lagos State, Nigeria painted world leaders in a project overseen by local organization Slum Art Foundation.
Sixteen-year-old Emmanuel, interviewed by CNN's Zain Asher, painted Donald Trump, urging the US president "to protect the rights of slaves, of children … all around the world."
3 hr 38 min ago
How young people can help end child labor
By CNN's Mark Tutton
Please enable JavaScript for a better experience.