Hamilton on the brink of history
Sunday's race underway at 7.10pm, live on Sky F1 and Sky One; Hamilton to start on pole; Mercedes driver will be crowned champion if he out-scores Vettel by eight points
Last Updated: 21/10/18 1:00am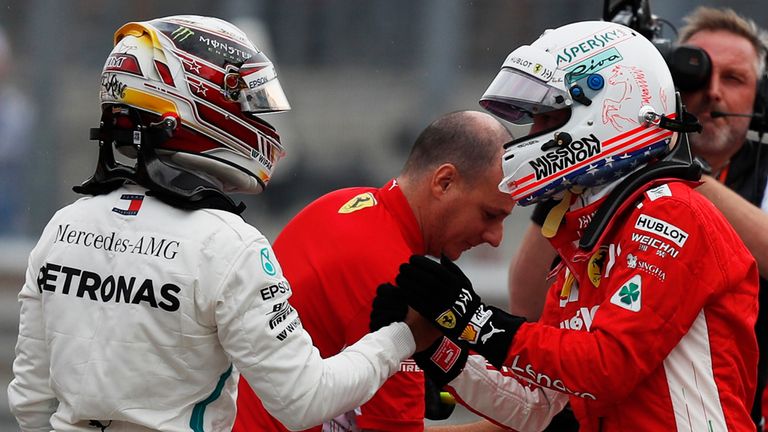 Lewis Hamilton stands on the brink of history in Sunday's US GP as the Mercedes driver closes in on a fifth world championship.
Hamilton will start the race from pole position after just edging out Ferrari's Kimi Raikkonen and Sebastian Vettel by less than a tenth of a second.
The Mercedes driver will be crowned champion if he out-scores Vettel – who will be demoted to fifth on the grid – by eight points or more.
"I've just got to go out and do what l love doing," reflected Hamilton.
United States GP TV times and schedule
How Hamilton can win the title at the US GP
Watch Sky F1's coverage on your mobile phone
Only two drivers – Michael Schumacher and Juan Manuel Fangio – have previously secured a fifth championship in the history of F1.
But despite standing on the cusp of a landmark achievement, Hamilton has maintained a calm and relaxed demeanour since his arrival in Texas.
"I don't know why that is the case. In some respects it is kind of scary," Hamilton told Sky F1. "But the experience definitely helps – l am the third-oldest driver here.
"I know what l need to do when l get out there."
The Englishman is also wary of the threat posed by a Ferrari team which has rediscovered its pace and poise.
"They were obviously very quick," said Hamilton. "This weekend, we're pretty much on a par performance-wise.
"As Seb said, they've gone back on some of their potential updates and the car is better in the sweet spot and for us, we've not brought updates here so we're on max downforce level here
"That's great to see us so close and still I'm hopeful for the future to have more teams, more qualifyings like that, that are closer, but with more cars involved, that's got to be the ultimate goal for Formula One."
How Hamilton can win title at US GP
If Hamilton wins and Vettel is third or lower
If Hamilton finishes second and Vettel is fifth or lower
If Hamilton finishes third and Vettel is seventh or lower
If Hamilton finishes fourth and Vettel is eighth or lower
If Hamilton finishes fifth and Vettel is ninth or lower
If Hamilton finishes sixth and Vettel is 11th or lower
If Hamilton finishes seventh or lower the title race goes on to Mexico
Sky F1's United States GP schedule
Sunday, October 21
5.30pm: Pit Lane LIVE! (Simulcast on Sky One)
6.30pm: On The Grid LIVE! (Simulcast on Sky One and Main Event)
7.10pm: THE UNITED STATES GP LIVE! (Simulcast on Sky One and Main Event)
9.30pm: Paddock Live
Will Lewis Hamilton clinch a fifth F1 world title at the United States GP? The race begins at 7.10pm on Sunday with build-up from 5.30pm. Saturday's Qualy starts at 9pm. Get Sky Sports F1.