Flawless Harris 'aggressive from start'
Tobias Harris said being aggressive from the outset was the key as he shot a perfect 6-of-6 three-pointers to help the Philadelphia 76ers to a Game 3 win over the Brooklyn Nets.
Thursday night's playoff scores
Philadelphia 76ers 131-115 Brooklyn Nets – 76ers lead 2-1
Denver Nuggets 108-118 San Antonio Spurs – Spurs lead 2-1
Golden State Warriors 132-105 Los Angeles Clippers – Warriors lead 2-1
Harris produced playoff highs in points (29) and rebounds (16) and was flawless from three-point range as the Sixers powered to a 131-115 win to earn a 2-1 series lead.
"With Joel (Embiid) down, it was a big scoring loss we had there," said Harris. "I just had to be aggressive from the start, was able to let it fly, and it felt good to see [shots] go in and stay confident with it the whole game."
Sixers coach Brett Brown praised Harris after the game. "I give credit to Tobias," he said. "He realised we needed some place to go to get points. And he did it in a dribble-out-type fashion."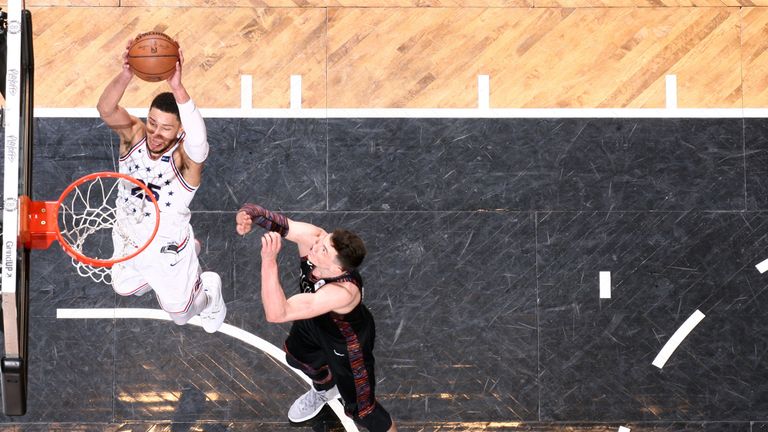 Ben Simmons (31 points on 11-of-13 shooting and nine assists) and JJ Redick (26 points, 5-of-9 from three-point range) also stepped up after Embiid was ruled out of the game during warm-ups with left knee soreness.
Redick hit three treys in the first five minutes of the third quarter as the Sixers built a 14-point advantage.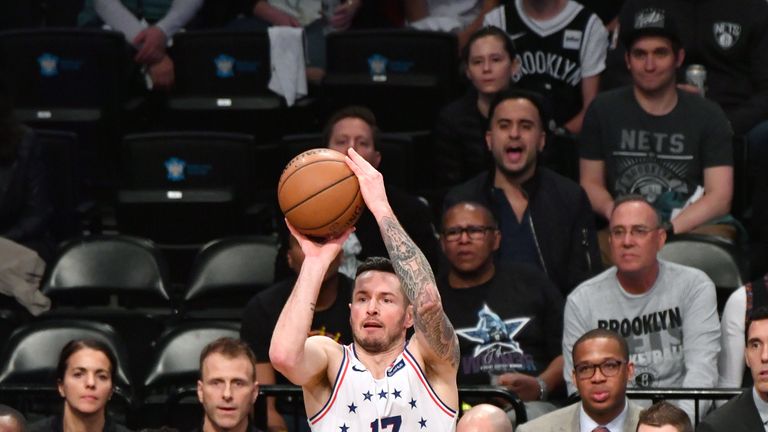 Nets coach Kenny Atkinson felt the Redick's sharpshooting proved critical. "JJ's run really got us out of kilter defensively," he said. "When a guy gets hot like that, [defenders] start helping and cheating then other guys get off too. That was a big part of the game, when [Redick] got going."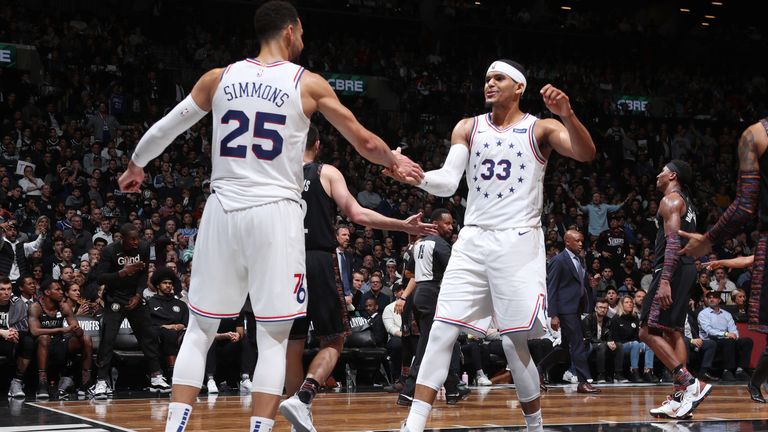 Brooklyn forward Caris LeVert reflected on the difficulty of containing the Sixers ultra-talented starters.
"They are a pretty tough team. They defend. They have specialists at each position. They spread you out with shooters and then they have Simmons attacking the rim," he said.
"Whatever line-up they have out there, they are pretty tough to defend."
Game 4 takes place on Saturday at 8pm (UK time) – watch live on Sky Sports Arena.
Want to watch the NBA but don't have Sky Sports? Get the Sky Sports Action and Arena pack, click here.