Dealing with turmoil & drive to be No 1
Last Updated: 10/08/18 10:27am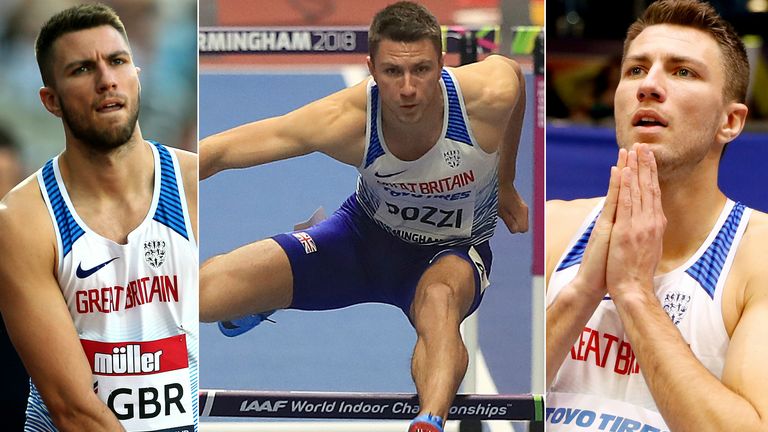 After being crowned World Indoor Champion in March, Andrew Pozzi's outdoor season has not exactly gone to plan.
Sixth at the Commonwealth Games, food poisoning at a Diamond League meet in Oregon, failing to finish at the World Cup and a fourth at the Anniversary Games.
What awaits the 26-year-old Sky Sports Scholar on Friday at the European Championships in Berlin?
Tony Lester, Head of Sky Sports Scholarships and former GB running coach, who steered Roger Black, Nicola Sanders Marlon Devonish and Abi Oyepitan to Olympic greatness, caught up with the Stratford-upon-Avon athlete in Germany….
---
To say that Andrew Pozzi means business and is taking no prisoners would be a mild understatement.
I recently spent an hour in the bustling lobby of the Maritim Hotel in downtown Berlin with Andrew ahead of his biggest challenge of the 2018 outdoor season.
His season since it started back in March in the Gold Coast, has been blighted with a run of what one would call terribly bad luck mixed with bad timing.
In his event the sprint hurdles, timing is everything. He now believes that finally he has turned the page on this episode of unfortunate circumstances.
He is now ready to take on the best that Europe has to offer and stand in the way of his quest for a piece of hardware that confirms you have the right to step onto the podium after Friday night's final.
He displays a cool and calm persona, that actually conceals the turmoil and desire to be the European No 1 sprint hurdler of 2018.
Yet knowing this athlete, and how meticulous he is in his preparation, I can do nothing other than to take him very seriously at his word.
When he says that "he is not here for anything else other than a medal", I believe him.
It's been a horrible season, so much so that he has questioned his talent and self-belief.
However, in the past two months he has literally gone back to the drawing board, torn up the playbook, re-evaluated where he thinks things may have gone awry and has worked meticulously on tidying up the mess to make things whole again.
He now feels that things are in a respectable place and his confidence is high.
The glide is back in his stride and I'm confident that if the luck of the hurdle gods are on his side – no matter how talented you are, a bit of luck goes a long way – we will hopefully see our Sky Sport Scholar once again step up onto the podium where he belongs on Friday evening.
---
POZZI'S EURO FRIDAY SCHEDULE
7:10pm (BST) – 110m hurdles semi-final
9:35pm – 110m hurdles final