British Airways: Suspect code that hacked fliers 'found'
A cyber-security firm says it has found a malicious script injected into the British Airways website, which could be the cause of a recent data breach that affected 380,000 transactions.
A RiskIQ researcher analysed code from BA's website and app around the time when the breach began, in late August.
He claims to have discovered evidence of a "skimming" script designed to steal financial data from online payment forms.
The BBC has contacted BA for comment.
A very similar attack, dubbed Magecart, affected the Ticketmaster website recently, which RiskIQ says it also analysed in depth.
The company says the code found on the BA site is very similar, but appears to have been modified to suit the way the airline's site was designed.
"This particular skimmer is very much attuned to how British Airway's payment page is set up, which tells us that the attackers carefully considered how to target this site instead of blindly injecting the regular Magecart skimmer," the researcher wrote in a report on the findings.
"The infrastructure used in this attack was set up with British Airways in mind and purposely targeted scripts that would blend in with normal payment processing to avoid detection."
Hacks like this make use of an increasingly common phenomenon, in which large websites embed multiple pieces of code from other sources or third party suppliers.
Such code may be needed to do specific jobs, such as authorise a payment or present ads to the user. But malicious code can be slipped in instead – this is known as a supply chain attack.
Data grab
RiskIQ said the malicious script consisted of just 22 lines of code. It worked by grabbing data from BA's online payment form and then sending it to the hackers' server once a customer hit the "submit" button.
The cyber-security firm added that the attackers had been able to gather data from mobile app users as well because the same script was found loaded into the app on a page describing government taxes and carrier charges.
"The page [in the app] is built with the same… components as the real website, meaning design and functionality-wise, it's a total match," the RiskIQ report noted.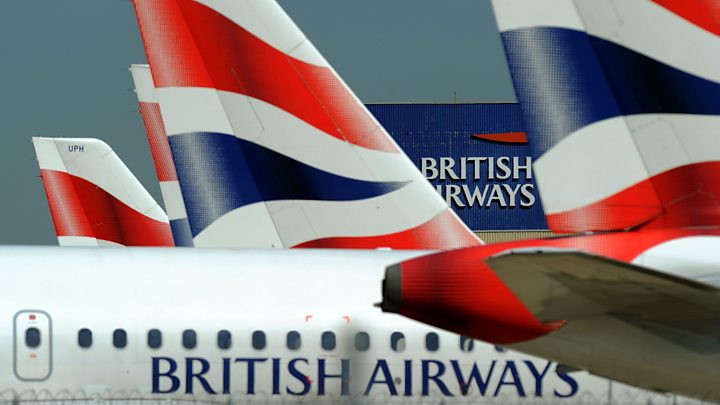 RiskIQ recommended that BA customers affected by the breach get a new debit or credit card from their bank.
The firm pointed out that whoever was behind the attack had apparently decided to target specific brands and that more breaches of a similar nature were likely.
"There is a very clear emerging risk where the weakest link in payment processes is being actively targeted, and that weakest link in the chain is often by placing older systems or third party code into the payment chain," cyber-security expert Kevin Beaumont told the BBC.
More to follow